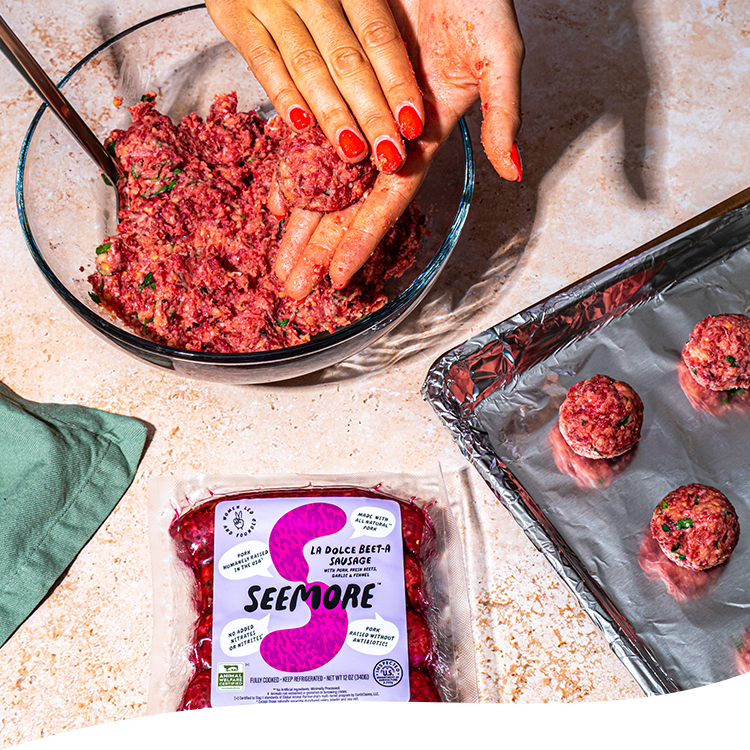 "Fantastic tasting, easy to cook in my toaster oven. Love the unusual flavors."

Deborah

"Convenient, so easy to cook up/reheat, delicious, and high quality/humanely raised meat. And women in business! YES!! Thanks!!"

Lisle

"Most importantly, my toddler loves them and they're a sausage I feel good about serving her and I like that I'm sneaking in more veggies to her meals!!"

Paul
Even my 18-month old loves them!
I've loved these sausages since they first launched but recently I made one for my toddler and he LOVED them even more!
The beet sausages taste great. I like the idea of eating a little more healthier and also supporting small business (great Nicoletti back story as well).
Best Flavor Profile! My new favorite
These are so great, I had to immediately order more. They pair well with everything you can think of adding them to - pasta, pizza, salads, on their own, all of it! Not a beet fan at all, and these don't have a strong beet taste at all so I get the added benefit of the vegetable, but don't have to love beets! It's a win-win.
This sausage was delicious! I honestly didn't think I would like it. I was hesitant about it. But when I made it with some pasta it was so good. My family & I really enjoyed it!
These sausages are delicious! They're a great way to cut back on meat and add veggies to your meals. I had a free coupon and tried the beet and pork sausage. The bright pink color was fun, and the spices were spot on. I grilled it , added deli mustard , and slaw and put in a hotdog bun. Everyone raved about it. Excited to try the other flavors. Love that they are precooked so it's just heat briefly and eat. Versatile and tasty.