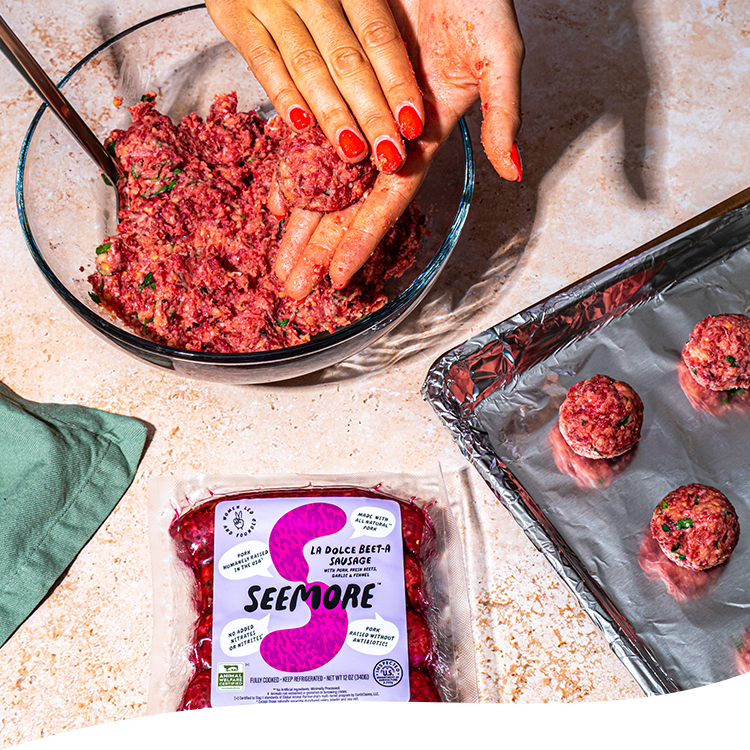 "Fantastic tasting, easy to cook in my toaster oven. Love the unusual flavors."

Deborah

"Convenient, so easy to cook up/reheat, delicious, and high quality/humanely raised meat. And women in business! YES!! Thanks!!"

Lisle

"Most importantly, my toddler loves them and they're a sausage I feel good about serving her and I like that I'm sneaking in more veggies to her meals!!"

Paul
BEST SAUSAGE EVER!
Perfect combo of beets and pork, love these alone or on a bun! So delicious.
Tasty La Dolce Beet-a
I enjoyed the beet sausage so much in the sampler package. It is one of my two favs! The Chile Verde is my other fav. Score for flavor!
La Dolce Delicioso!!
By far, my FAVORITE Seemore sausage!!
Even my 18-month old loves them!
I've loved these sausages since they first launched but recently I made one for my toddler and he LOVED them even more!
The beet sausages taste great. I like the idea of eating a little more healthier and also supporting small business (great Nicoletti back story as well).